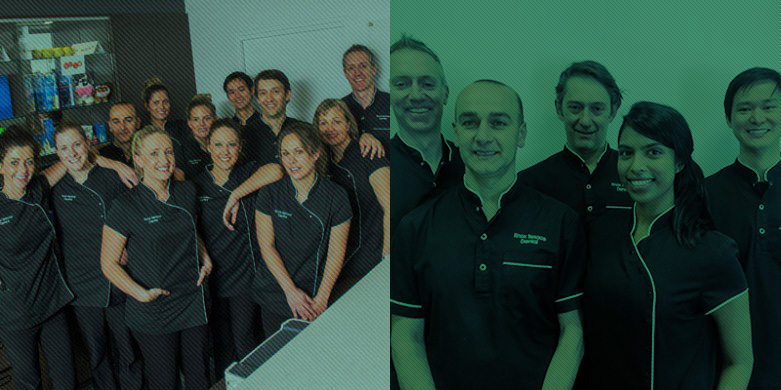 Dr Steven Speechley
Dr Speechley graduated from the University of Melbourne in 1987 and has spent the bulk of his career here at Knox Terrace Dental. His interest in dentistry has made him a regular course attendee since graduation and he has over 20 years experience in cosmetic and implant dentistry. Dr Speechley is a member of the Australian Dental Association (ADA-Victoria), the International Team for Implantology (ITI )and the Melbourne branch of the Seattle Study Group, an academic group comprised of specialists and general practitioners who meet for lectures, case discussions and updates.
He enjoys leisure time with his family, music, gardening, food and sport. He hopes to one day see the Western Bulldogs win a premiership.
Dr Eddie Sansil
Dr Sansil graduated from the University of Melbourne in 1998 and began practising at Knox Terrace Dental in 1999. He is a keen proponent of continuing education, and has completed numerous courses of study in dentistry, with a particular focus on dental implants. Over the past years, he has completed numerous cosmetic, crown and bridge, and implants based courses including an International Team for Implantology Surgical course and a Master Course in Guided Bone Regeneration and Sinus Augmentation at the University of Berne Switzerland in 2012. Up to date, he is a proud member of the Australian Dental Association (ADA-Victoria) and the ITI as well. He has keen interests in surgical implant dentistry and complex implant restorations including All On 4 procedures.
Outside of dentistry, Eddie enjoys travelling, engaging in healthy activities like walking, and is into his cars and motor sports.
Dr Alex Ooi
Dr Alex Ooi, has been practicing dentistry since 2003. He grew up in the Wantirna area. and after working a few years in the CBD and inner Melbourne, joined the Knox Terrace Dental practice in 2007. He is interested in all aspects of general dentistry, and hopes to provide his patients with a comfortable and informed experience.
When he is not practicing dentistry, his interests encompass fitness and well-being, stemming from club and state level competitive swimming. He and his wife recently moved into a new property and he looks forward to the challenges of being a homeowner.
Dr Ross Powell
Dr Ross Powell graduated with a Bachelor of Dental Science from the University of Melbourne in 1998. He has since gained wide-ranging experience in dentistry, having worked in various practices in metropolitan Melbourne and the UK.
Ross puts a strong emphasis on providing high quality dentistry in a gentle caring manner. In order to provide the most up-to-date care for his patients Ross is committed to continued professional development and is currently completing an extended program in orthodontics.Having worked as a Technical Specialist for a multinational dental manufacturer Ross also has a passion for the way in which new technologies can improve patient experiences. To this end Ross offers the latest digital scanning technology for those patients undertaking crown, bridge, and implant treatment.
Ross loves spending his spare time with his wife and three young boys but ensures that he leaves just enough time to enjoy his other passion, golf.
Dr Payal Thatikonda

Payal joined the Knox Terrace Dental team after completing her Bachelor of Dental Surgery degree at the University of Adelaide. She enjoys all areas of general dentistry, aims to provide quality oral health education and services in a gentle manner, and has a keen interest in working with children and nervous patients. She is a member of the Australian Dental Association, regularly attends CPD programs and is currently undergoing training to become a certified Invisalign provider. Outside of dentistry, Payal enjoys keeping fit, cooking and curling up with a good book.
---