Single Tooth Implant
Dental Implants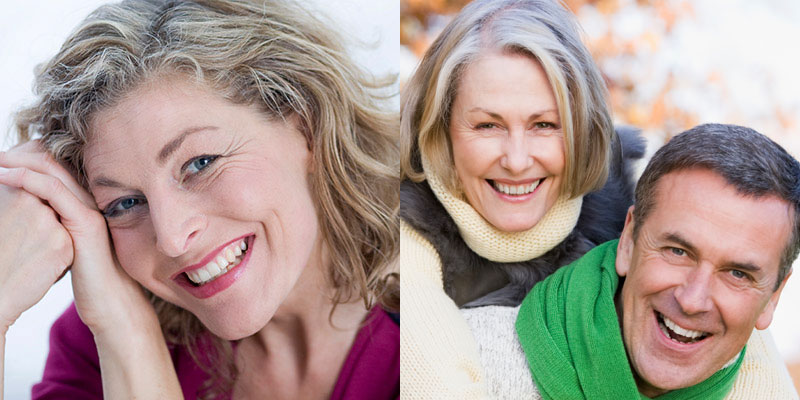 Dental implants are considered to be the best and most comfortable tooth replacement solution. A titanium implant forms a connection to bone and acts as a new "root" to which a crown can be attached to fill the space left by the missing tooth. The implant thus provides a solid foundation in the jawbone for a replacement tooth. A single tooth implant feels like a real tooth and does not require other teeth for support.
Dental implants can improve patients' overall health, while helping them gain the confidence that comes from a well-functioning smile that looks good and feels natural. Several research studies have clearly demonstrated that fixed dental implant solutions, compared to removable dentures, significantly improve patients' quality of life. Fixed dental implants allow patients to chew and speak properly as well as increase patients' comfort and self-confidence, and reduce bone resorption. (1)(2)
At Knox Terrace Dental, we have found that dental implants are truly able to enhance the quality of life for our patients.
We have been helping patients restore their function and smiles with implants since the early 1990s. From single and multiple tooth replacements, to implant retained dentures and All on 4 there is a solution to help you rediscover the security that comes with firmly anchored teeth
1 [The McGill consensus statement on overdentures. Mandibular two-implant overdentures as first choice standard of care for edentulous patients. Montreal, Quebec, May 24-25, 2002.; Int J Oral Maxillofac Implants. 2002 Jul-Aug;17(4):601-2].
2 [Fiske, et al, The emotional effects of tooth loss in edentulous people, British Journal, Vol 184, No. 2, January 24, 1998].
Cross section of a natural tooth and implant:
Titanium, bone-integrated implant
Implant abutment
Implant crown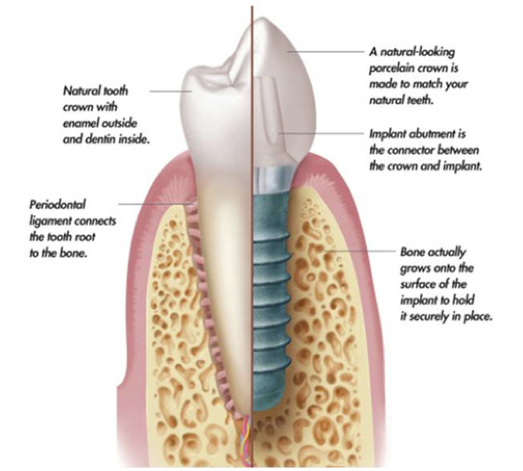 Images courtesy of Straumann USA, LLC, its parents, affiliates or subsidiaries.
© Straumann USA LLC, all rights reserved
To ensure the success of an implant, there must be enough bone in the jaw, and the bone has to be strong enough to hold and support the implant. If there is not enough bone, a procedure called bone grafting may be required. In addition, your natural teeth and supporting tissues near the implant site must be in good health.
The Single Tooth Implant Process
Planning stage: Planning is the most important part of the process. A carefully thought-out treatment plan is the difference between success and failure. We use digital CT imaging on our premises to visualize the bone condition and give a 3D view to ensure proper placement.
Implant placement: After evaluation is completed we can surgically place the dental implant in the ideal position. This is usually performed with local anaesthetic but the dentist can discuss other sedative options if you are concerned with discomfort. Most patients find the procedure to be equivalent to a tooth extraction and that recovery is uneventful. The more complicated the procedure is the more discomfort there may be postoperatively.
Healing: the bone around the dental implant will grow and integrate with the new Straumann implant in as little as 6-8 weeks.
Temporary restoration: if the dental implant is in a readily visible area, a temporary restoration may be placed for aesthetic purposes while the site heals.
Abutment/crown placement: when healing is complete and integration of the implant to bone is confirmed the implant crown/abutment can be fabricated and attached to the implant.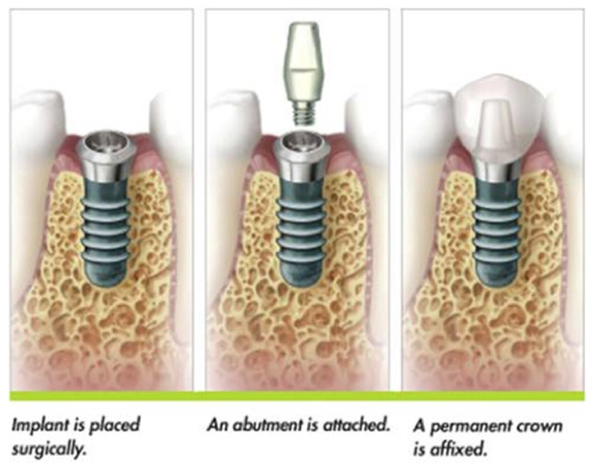 Images courtesy of Straumann USA, LLC, its parents, affiliates or subsidiaries.
© Straumann USA LLC, all rights reserved
Implant dentistry is now a very predictable procedure. Since modern implant dentistry began about 25 years ago procedures and materials have been modified to the stage where the success rate is above 98%. The few failures that occur are typically after surgery before crown fabrication has begun. It is rare that an implant may not take, but often this can be easily resolved with a new implant placement.
Dental implants feel, look and function like natural teeth. There are no long-term restrictions with dental implants, although caution is needed until the bone is completely healed. When your implant crown has been placed, it is important to avoid biting hard substances at first. Initially, a soft diet is best for the first two weeks; after that, you can slowly introduce harder foods. Rest assured, you will soon be able to enjoy all kinds of foods. Brush and floss twice a day just like you would your natural teeth, and visit your dentist twice a year for checkups and cleans.
See also Implant Bridges, Implant Overdentures, All on 4
---