Children's Dentistry
Preventive Dentistry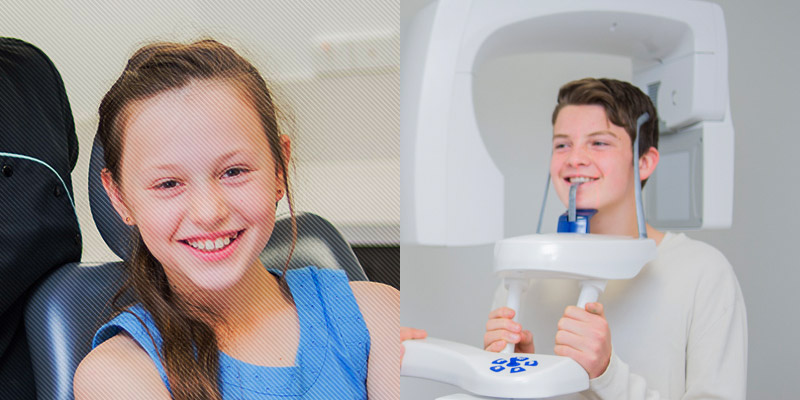 At Knox Terrace Dental, we understand that every parent wants their child's first visit to the dentist to be a positive experience. That is why it is important to bring your child to the dentist at an early age before they have had any problems so we can help instil good habits.
We try to minimize treatment at the first visit and give them the chance to get used to the dentist. A ride in the chair may be all that's required to get your child looking forward to future visits. It's important to make it fun so your child will gain confidence and any future procedures are less likely to be traumatic for both them and you. We will discuss your child's dental development with you and answer any questions you may have.
Although we avoid treatment at the first session (unless absolutely necessary), we provide emergency consultations – such as for knocked-out teeth or toothache – any day of the week.
Fissure sealants
The natural pits and fissures on your child's adult molars can easily trap food and germs, which can cause tooth decay and cavities. Brushing and flossing cannot fully reach into these pits and fissures, which is why we often recommend applying coatings called fissure sealants.
Fissure sealant is applied as a liquid to your child's molars before it is set hard by a special curing light. This covering then helps to prevent plaque from damaging the pits and fissures in your child's teeth by filling in these areas. Importantly for your child, sealant therapy is non-invasive, and usually needs no drilling or local anaesthetic. It is necessary to review and maintain these sealants right through adolescence to maximise the chance of these teeth remaining decay free.
Mouthguards
If your child plays a contact sport, we strongly recommend you provide them with a custom-made mouthguard. Dental injuries can be painful and traumatic for children, resulting in time off school to recover, and lengthy expensive dental treatment.
A mouthguard custom made for your child by Knox Terrace Dental will provide greater protection and far more comfort than a mouthguard bought 'off the shelf'. It's the best way to guard against dental injuries when your child plays or trains.
See also Orthodontics
---