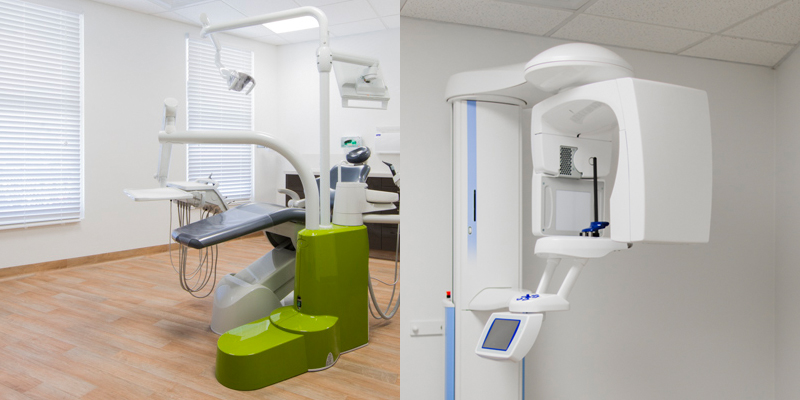 1. Digital X-Rays
Our  digital x-ray machines are invaluable when it comes to diagnosing potential issues with your teeth. Producing just a tenth of the radiation of conventional x-rays, the digital x-ray projects images  on an overhead monitor giving you the most efficient service possible.
2. OPG
Our digital Orthpantomograph, or OPG, is an advanced x-ray machine that gives our dentists an overall view of your jaws, teeth, and joints. It helps us diagnose diseases of your teeth and bone, and is of great use for patients who need surgical, periodontal, or implant treatment.
3. Cone Beam CT Scanner
Our Computed Tomography (CT) scanner combines a rotating x-ray machine with a computer to give us 3D imagery of your hard and soft tissues.  This is an invaluable investigative and diagnostic tool. The CT scanner's clear images help us diagnose problems that may have otherwise required specialist referral. 3D images are also an integral part of implant planning.
4. Dental 4 Windows
Knox Terrace Dental is fully computerised with the latest dental software which allows us to better perform in areas that will further improve your appointment visits.
5. Infection Control
At Knox Terrace Dental your safety and well-being are our top most priority. We are fully equipped with the latest sterilisation machines and technology and take every precaution to ensure the highest quality  infection control processes are used.
6. Digital Impression Scanning
Digital impressions are a scan of your mouth taken with an intra oral camera that obtains an accurate recording of your teeth size and shape.  These 3D records can be used to construct crowns, splints, dentures and even implant crowns to greater accuracy than those made from  the traditional  mouth moulds.
---